Neuroendoscopic options in myelomeningocele related hydrocephalus
Keywords:
third ventriculostomy, myelomeningocele, ventriculocystostomy, choroid plexus coagulation.
Abstract
Introduction: The use of neuroendoscopic for the management of myelomeningocele-associated hydrocephalus is still controversial. Anatomic variations and abnormalities of the ventricular system and the confusing topography of the floor of the third ventricle are of utmost importance in this approach. 
Case presentation: The present case video displayed a case of a 4-year-old girl with myelomeningocele related hydrocephalus presented with a closure of third ventriculostomy after tethered cord release. Several neuroendoscopic options were depicted such as third ventriculostomy using bipolar diathermia, ventriculocystostomy of a quadrigeminal arachnoid cyst and a choroid plexus cauterization as a strategy to improve the success rate of this procedure and handle the difficulties presented in this form of hydrocephalus.
Discussion: This video warned the young neurosurgeons regarding ventricular anatomic challenges presented in this case as well as the need of customization of neuroendoscopic approach.
Conclusion: Neuroendoscopic approach is an effective strategy to manage myelomeningocele-associated-hydrocephalus.  
Downloads
Download data is not yet available.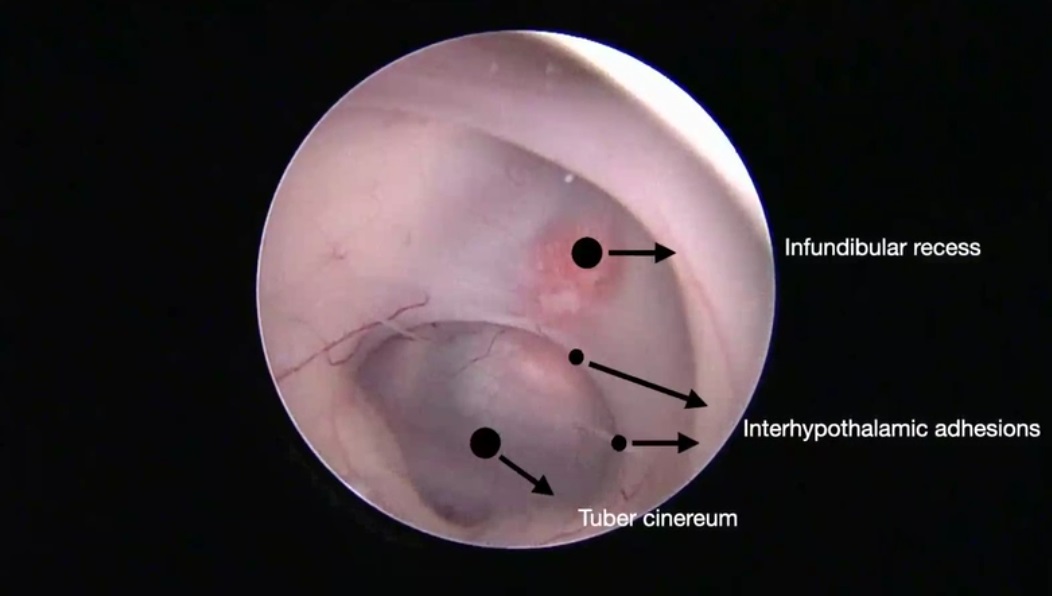 How to Cite
1.
Neuroendoscopic options in myelomeningocele related hydrocephalus. Arch Pediat Neurosurg [Internet]. 2020Oct.31 [cited 2021Dec.2];2(3(September-December):e572020. Available from: https://www.archpedneurosurg.com.br/pkp/index.php/sbnped2019/article/view/57
Copyright (c) 2020 Leopoldo Mandic Ferreira Furtado, José Aloysio da Costa Val Filho, François Dantas, Camila Moura de Sousa
This work is licensed under a Creative Commons Attribution 4.0 International License.
When publishing in Archives of Pediatric Neurosurgery journal, authors retain the copyright of their article and agree to license their work using a Creative Commons Attribution 4.0 International Public License (CC BY 4.0), thereby accepting the terms and conditions of this license (https://creativecommons.org/licenses/by/4.0/legalcode).
The CC BY 4.0 license terms applies to both readers and the publisher and allows them to: share (copy and redistribute in any medium or format) and adapt (remix, transform, and build upon) the article for any purpose, even commercially, provided that appropriate credit is given to the authors and the journal in which the article was published.
Authors grant Archives of Pediatric Neurosurgery the right to first publish the article and identify itself as the original publisher. Under the terms of the CC BY 4.0 license, authors allow the journal to distribute the article in third party databases, as long as its original authors and citation details are identified.